*A Mixer is absolutely necessary for adding announcer/external audio to NFHS Network broadcasts. This article assumes that you already have equipment for announcers. If you do not have any, please click HERE for some recommended equipment. 
**We can only provide support for the connection from your mixer to the Pixellot Computer (VPU). If you're having issues with any hardware that you purchased, please contact the manufacturer of the hardware for further support.
Related:
Basic Recommended Equipment for Adding Announcers to your Pixellot Setup
Basic Equipment/Setup for Wireless Announcers to a Pixellot Broadcast
The Pixellot camera comes with a pair of microphones in it so that your broadcast can have the natural sounds, or "nat audio" of the event automatically incorporated into it. NFHS Network does not supply any additional audio equipment.
What is Included in this guide:
This guide will walkthrough and explain what is necessary to add external audio to a Pixellot broadcast. Broken up into two separate ways, we will explain what you need to push your audio to a Pixellot Stream.
In case of difficulty with Behringer audio hardware (Uphoria), the UMC audio driver is attached to this article for reinstallation on a VPU. 
This guide only demonstrates what is known to work and supported. Any equipment or devices not recommended by the NFHS Network may not be supported or even compatible. 
Here are the two ways to connect your mixer to the Pixellot Computer: 

1. Behringer USB Connection
Behringer is currently the only brand of mixer that is compatible with Pixellot via direct USB connection.
a. This is the most highly recommended way to add announcer audio. The Pixellot Computer is already compatible and loaded with drivers to support this.
b. Locate the USB 2.0 on the backside of the Behringer mixer.
C. Connect this to any USB port on the Pixellot Computer. 
d. Run a test stream and test microphone. (Remember, streams can have up to a 4 minute delay). If you experience any issues, please submit a ticket via help.nfhsnetwork.com.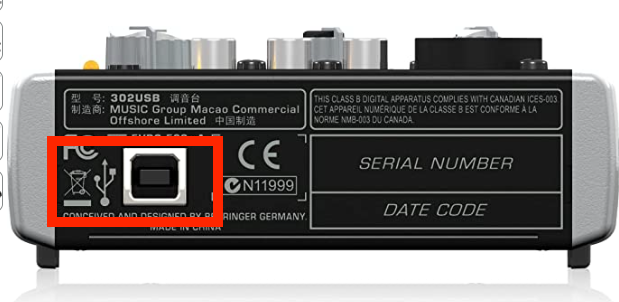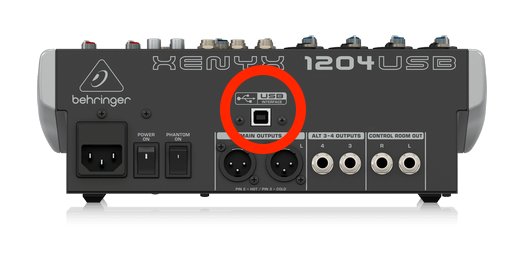 2. Line-in (1/8" port)
As we will cover bellow, you can connect your mixer via a Main Out to line-in on the Pixellot Computer. However, it is preferred that you purchase the StarTech USB Audio Interface found in the Recommended Equipment Guide. Neither NFHS Network or Pixellot will supply the StarTech Interface.
This device will make adding audio more versatile and become more plug-and-play. 
Once you've connected your StarTech Device, please contact support via help.nfhsetwork.com for us to finish the software set-up and to assist in testing on stream.
We can still support using directly to the line-in on the Pixellot, however, the StarTech Interface provides a much better experience and less on-site interaction from event-to-event.
a. Finding the Outputs
Various models of mixers have varying outputs and your setup will vary on your mixer. See the examples below and notice that there are different styles of output and input connector ports depending on which brand and model of mixer is used.
| | | |
| --- | --- | --- |
| 1/4" TS/TRS (Female) Main out | XLR (Male) Main out | RCA (Female) Main out |
b. Picking a Cable
Once you've identified your output, a matching cable, and adapter will be required to connect it to the computer.
| | | |
| --- | --- | --- |
| 1/4" TS/TRS ->1/8(3.5mm Male) cable | XLR->1/8(3.5mm Female) cable | RCA->1/8(3.5mm Male) cable |
**Notice that one side of each adapter cable matches the mixer's output and the other side is always a 1/8" stereo plug - like you might see on headphones or an "aux" cable that you use in your car. This side will plug into the Pixellot computer, so make sure that the cable you get is long enough to reach from the audio mixer to the back of the Pixellot computer.
c1. Connecting to StarTech Audio Adaptor
Plug it directly into the Line-In on the StarTech Audio Interface
Contact Support at help.nfhsnetwork.com or set up an appointment here for testing
Leave the StarTech Audio Adaptor connected to the Pixellot between every event but store away mixer equipment if needed.
c2. Where to Connect to the Computer (without StarTech)
This way will require a more hands-on approach and may require submitting a support ticket between each event. Due to mixers pushing different formats the the Pixellot Computer, we may have to reset it to Line-in every time the mixer is unplugged or the Pixellot Computer loses connection. 
Three primary models of computer towers are sent out. Unless you have a Behringer with a USB connection it will have to be plugged into the Line-In section on the computer. This is signified by the icon below.  This could be in a few different locations depending on your VPU. 

This icon is often attributed to the color blue or is just a standalone port with the icon. Please be sure to check which port you are connecting your cable to.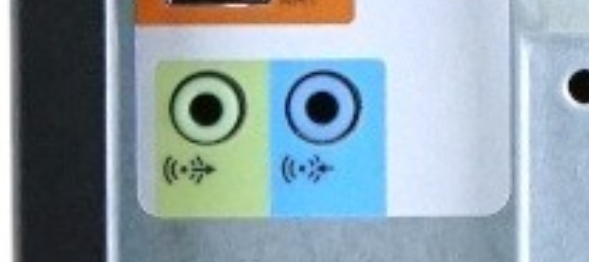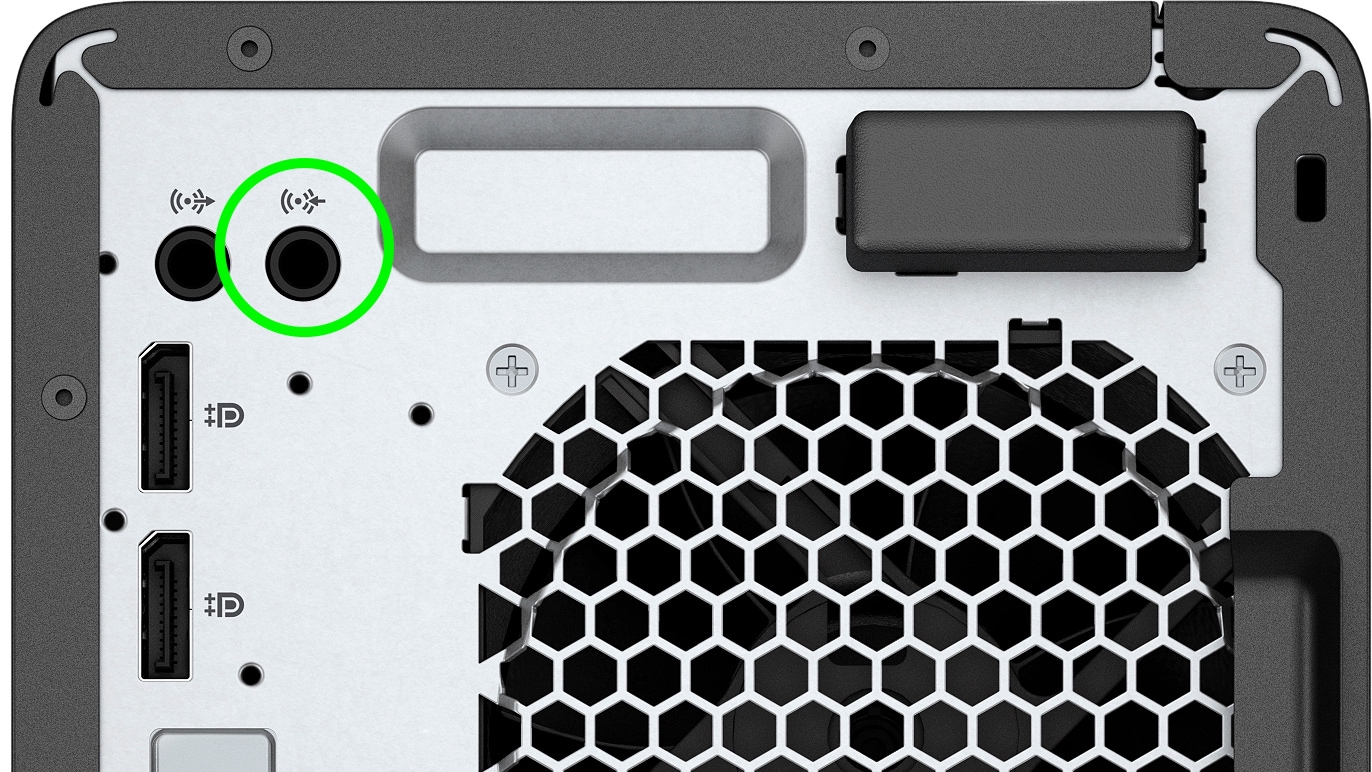 I see one port with no colors or the right icon:
It is likely that you may only have a single port on the backside of the Pixellot Computer. Please pay close attention to the direction of the arrow on the icon as they are more often Line-Out ports and will not function for adding announcers.
To allow audio through, the cable will need to be plugged into the headset port on the front of the computer. You will then need to open a ticket with Support via help.nfhsnetwork.com before doing this for further assistance with getting this port configured properly.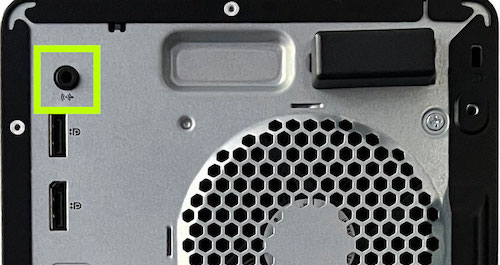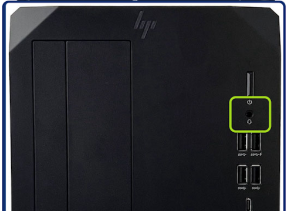 4. Time to Test Your Audio!
Because there is no true real-time monitoring of your stream, you may want to first try this on an unlisted practice stream so that you can dial in the audio levels. The camera's mics will also still be running when you plug in announcers to give you a mix of crowd/game sound and play-by-play commentary.
If you want to adjust the camera's mics or have any other issues with your line-in configuration, contact our support team by going to help.nfhsnetwork.com and tapping GET HELP.
5. Still having some issues?
If you are still having issues with your audio, it may be worth looking into some of these things on or about your mixer as well as following the list of dos and do's not's depending on your equipment.
NFHS Network Support can only provide recommendations on controlling your mixer. We are unable to provide any support on adjusting your mixer and urge you to contact the mixer manufacturer for any assistance or errors. 
We've included a quick overview of equipment terms and helpful tips below: 
Mic (XLR) input

(The mic could possibly be loose or the cable could possibly be damaged)

Line (1/4 inch) input

Similarly to the Mic Input, the Cable may not be plugged in all the way, or it could be damaged.

Gain

If the gain is too high, it could cause peaking or buzzing audio on stream. If it's too low there could be very quiet or even no audio showing up on stream. // A high gain setting can cause ___ // A low gain setting can cause ___ 

EQ

(Having a not-ideal EQ mix can result in tones sounding noticeably off or even distorted.)

Mute

Not all mixers/headsets come with a dedicated mute button(s), but for those that do, this can cause no audio to come through on certain channels.

Pan/Balance

having a biased, Pan/Balance usually will lead to uneven audio between the left and right headphones and/or speaker. This is usually more of an inconvenience but can reduce audio-level output in some cases.

Volume

Similarly to both mute and gain, if the volume/level knob/slider is turned down too low or up too high, it can cause a lack of audio or excessively loud audio on stream.

Main Output

Some mixers come with Multiple outputs and others, just the main and possibly a phones output. You should always be sure that the main output is getting audio just in case.

Headphone/Control Room output

The Headphone/Control Room output is typically just for the Announcer, or the isolated audio inside the mixer control room environment. While it can be used as an output for other devices, it isn't always recommended.

Phantom Power +48V

Some headsets/microphones require some extra power in order to get proper audio through the mixer. The Phantom Power +48V should only be used at the recommendation of the headset/microphone manufacturers' recommendation/Instruction as itcan cause damage to equipment if used improperly.
Do's/Don't's
DO Use microphones with XLR connectors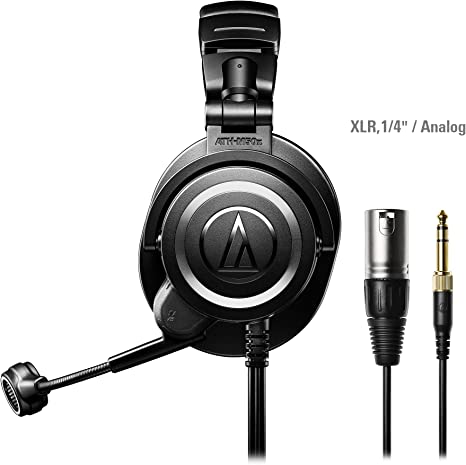 DON'T Use a gaming headset or other headset with a single connector 
DO Make sure your headphones are plugged into the headphone/control room output so that announcers can hear themselves 
DON'T Plug your headphones into a Line Input or Aux, etc 
DO Make sure that everything is connected properly and power is on when using announcers/audio mixer
DO Activate Phantom Power +48V if your microphone requires it (it won't work without it)
DON'T Activate Phantom Power +48V if your microphone doesn't require it (this could damage it)